| | |
| --- | --- |
| | Resources |




Jones Jewelers, Inc.
123 Main Street
Anytown, NY 20317
USA
(212) 555-4321
(212) 555-1234 fax

Send Us

E-mail

© Copyright 2011
Jones Jewelers, Inc.
powered by Website2Go.com
All Rights Reserved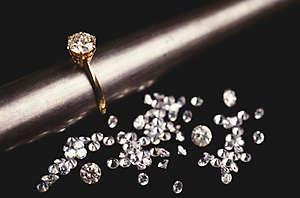 Jones Jewelers maintains an enormous and powerful network of gem and jewelry resources in order to bring the clients of Anytown the best in precious stones and jewelry. In this section you'll find a variety of resources you can use and contact for more information about this business.


Helpful Organizations and Services

Jewelers of America
Jewelers association site with general jewelry information. Search for a member jeweler by name, city, or zip code.

American Gem Society
Jewelers association with gemstone and jewelry information, video clips, and search function.

The Gemological Institute of America
Information about education and training programs at GIA, the world's top gemology school. The site also includes information about how gemstones are graded.

Geology 306 - Gems and Precious Stones
University of Wisconsin-Madison
Online course with instructor Jill Banfield.

Canadian Institute of Gemology
Includes Gemology World magazine, a gemological journal.

Polygon Network
A private network for the jewelry industry with a door on the web with general jewelry information.

Rapaport Diamond Report
A private network with trading and price lists for subscribers only, which also has a public area with diamond and jewelry industry news.

Rockhounds Information Page
A good place to start if you are looking for lots of links on mineral collecting, geology, deposits around the world, and other people with similar interests.


Here are some fabulous museum collections:

Smithsonian Institution, National Museum of Natural History, Hall of Gems, Washington D.C.
Smithsonian Institution, National Museum of Natural History, Hall of Gems, Washington D.C.
Collection includes the Hope Diamond (a 45.52 carat blue diamond), the Rosser Reeves ruby (138.70 carats) from Sri Lanka, the Star of Asia (a 330 carat blue sapphire from Burma), the Hooker Emerald, the Logan Sapphire, the Maharani Chrysoberyl cat's-eye (58.20 carats), a gem-quality aquamarine of 911 carats from Brazil, an 880 carat gem-quality kunzite, a 22,892 carat golden topaz, a 250-carat morganite beryl, and other spectacular specimens.

American Museum of Natural History, New York
Collection includes the 632-carat Patricia Emerald, the 563-carat Star of India (which is said to be the world's largest star sapphire and is actually from Sri Lanka), and the J.P. Morgan collection of star rubies and sapphires.

Natural History Museum of Los Angeles County, Los Angeles
Fine collection of mineral specimens and faceted gemstones, including the 196-carat Burma Hixon Ruby, one of the finest ruby crystals in the world.

Harvard University, Cambridge, MA
Fine mineral collection features the Hamlin Necklace, set with spectacular Maine tourmalines.

Tower of London, England
The British Crown Jewels are displayed in the Tower of London, including many jewels which are still used in state ceremonies: St. Edward's Crown, the crown of England which is used only for coronation; the Imperial State Crown, which contains the Black Prince's Ruby, the Stuart Sapphire, and St Edward's Sapphire; the Sovereign's ring which is set with a large sapphire; Queen Victoria's Ring, set with a large sapphire, five rubies, and 20 diamonds; the King's Scepter with Cross, which is set with The Great Star of Africa diamond and a large amethyst globe; and the Orb of 1661, which is a hollow gold sphere set with 365 diamonds, 9 emeralds, 9 sapphires, 18 rubies, 363 cultured pearls and 1 amethyst. The Imperial State Crown, Scepter and Orb are used for the opening of Parliament each year.

British Museum of Natural History, London
Collection includes the Devonshire Emerald, a 1,384 carat Colombian emerald crystal; a rare 19.85 carat faceted blue fibrolite (sillimanite) from Burma; a 57.26 carat orange sapphire from Sri Lanka, a 598.70-carat morganite from Madagascar, the world's largest, and the first Taaffeite ever found (by Count Taaffe, of course).

Green Vault, Dresden, Germany
Collection includes the Dresden Green, a 41-carat pale green diamond that is the largest on record, and Peter the Great's Nose, a 1,884-carat sapphire (which does sort of look like a nose).

Edelstein Museum, Idar Oberstein, Germany
Collection systematically covers almost all species of gemstones from a variety of localities and includes examples of fine carvings.

Musee du Louvre, Paris
Collection includes the French Crown Jewels, lots of huge diamonds, the Cote de Bretagne Spinel in the Order of the Golden Fleece, and a collection of medieval jewelry.

Topkapi Palace Museum, Istanbul
The Topkapi Palace Treasury has some of the most magnificent Colombian emerald accessories ever conceived, including a fantastic dagger with three huge emeralds on the hilt. The collection also includes a 250 kilogram golden throne studded with tourmaline, a carved emerald snuffbox, and vases carved from fine green jadeite.

Gold Museum, Bogota, Colombia
This collection includes some of the finest emerald crystals in the world, including one of 1,759 carats and one of 1,020 carats.


Look for these books, as well:

Gems: Their Sources, Descriptions and Identification
by Robert Webster, Revised by B.W. Anderson and Peter Read, Fifth Edition, 1994. The definitive gemological reference, with more than 1,000 pages of gemological information, including identification tables.

A Consumer's Guide to Colored Gemstones
by David Federman with photographs by Tino Hammid, Van Nostrand Reinhold, 1990. Sixty gem profiles on individual gemstones accompanied by stunning gemstone photographs. Gives the reader a glimpse inside the world of gemstone dealers. Shows how the gem trade does business and why: the love and enthusiasm that dealers have for their products. One of the few books that looks at the gemstone business rather than the applied discipline of gemology.

he Curious Lore of Precious Stones
by George Frederick Kunz, Bell Publishing, 1989 (and others). This is the classic reference to the legends and lore of gemstones from the early twentieth century.

Gemstones, British Museum of Natural History
by Christine Woodward and Roger Harding, 1987. A remarkably informative if slim paperback volume that is an excellent introduction to all aspects of the gemstone world.

The Larousse Encyclopedia of Precious Gems
by Pierre Bariand, Jean-Paul Poirot, Emmanuel Fritsch, Van Nostrand Reinhold, 1992. A extensive reference that goes through the world of gemstones, including history and lore as well as gemological information, gem by gem.

Hollywood Jewels: Movies, Jewelry, Stars
by Penny Proddow, Debra Healy, and Marion Fasel published by Harry N. Abrams Inc, chronicles the history of jewelry in the movies and the jewelry owned by movie stars. The text is well illustrated with movie stills, publicity shots of the stars wearing their jewelry, and photos of individual gemstone jewelry pieces.

Emerald and Other Beryls
by John Sinkankas, Geoscience Press,1981. The definitive work on every aspect of emerald and other beryls: history, geology, gemology, and deposits around the world.