| | |
| --- | --- |
| | A Diamond History |




Jones Jewelers, Inc.
123 Main Street
Anytown, NY 20317
USA
(212) 555-4321
(212) 555-1234 fax

Send Us

E-mail

© Copyright 2011
Jones Jewelers, Inc.
powered by Website2Go.com
All Rights Reserved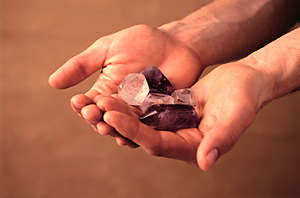 Jones Jewelers is the area's largest supplier of gems and diamonds. In fact, most of the fine jewelry you see adorning the good people of Anytown passed through the hands of our gemologists and craftspeople. We work every day with these marvelous stones, and want to pass on the lore of diamonds to others.

Gem diamonds were first discovered in streambeds thousands of years ago in India and Borneo. Archaeologists have found them set in the eyes of Hindu statues. The ancient Greeks believed diamonds were splinters of stars that had fallen to Earth. The philosopher Plato wrote about diamonds as living beings that embodied celestial spirits.

It was also once believed that diamonds protected people from harm and brought luck and success to the wearer. Ancient peoples believed diamonds endowed the wearer with charm and the ability to attract others. It was said that Cupid's arrows were tipped with diamonds, which cast a magic spell of passion that nothing else could equal.

Over the centuries monarchs have competed for the possession of renowned gems, and used them as instruments of diplomacy. They were a highly-respected status symbol and sign of power when sewed into clothing, on headdresses, or decorating swords, scabbards and scepters.

The ring has also perpetuated the diamond as talisman. In the Middle Ages and Renaissance, rings were set with precious stones both as a piece of jewelry and also as an amulet that conveyed the magic powers of the stone upon the wearer.

The diamond acquired its unique status as the ultimate gift of love in the late 1400s when the Archduke Maximillian of Austria presented a diamond ring to Mary of Burgundy.

It actually wasn't until the discovery of diamonds in Kimberley, South Africa in 1871 that diamonds became accessible to the wider public, increasing demand and influencing design.

Today, diamonds are a thriving business, and Jones Jewelers is one of the premier resources for the finest quality stones in the area. Come see our selection and choose yours!